Cultural exchange: Western devs enter Japanese social gaming market – Japanese enter Facebook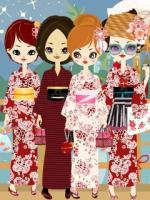 The Japanese social gaming scene is dominated by three platforms: Mixi, Mobage-town and Gree. The great majority of people access these social networks via a mobile phone instead of a computer browser. It's a big market: according to David 'dc' Collier of Japanese social game developer Pikkle, it's just as big as the U.S. market: half the population, but twice the ARPU (David gave an excellent introduction to Japanese social games at GDC this year, covering everything from business models to game design). No wonder major social game developer PopCap's APAC bizdev Giordano Contestabile recently said on Twitter that he was "doubling down on social games in Japan. As are most other companies. Next 6 months will be a pitched battle. Expect fireworks"!
At the same time, it's interesting to note that Japanese developers are increasingly reaching out to Westerners, and they're doing so through Facebook. Amebe Pigg, a year-old virtual chat world with over 2 million users, was recently launched on Facebook in English as Amebe Pico. Activities in this cutesy isometric environment revolve around shopping, decorating your room and gearing up your big-headed avatar, similar to Finland-based teenage virtual world Habbo. The developers of Poupée Girl, a Japanese community site focusing on dress-up avatars and the bewildering world of Japanese teenage girl fashion, debuted on Facebook yesterday with Poupée Boutique: a shop simulator that leverages the art assets from Poupée Girl. The UI seems to be in English. The boutique is advertised both in English and Japanese.
Besides being a path to the Western market, these forays into Facebook may also be a way for developers to hedge their bets on the domestic market. Facebook used to be a very minor player here, and it's still minor. But I see more and more Japanese tuning into it now – especially those with foreign friends and some English ability. Two years ago, people used to ask me if I'm on Mixi. Now they ask me whether I'm on Facebook or Twitter (I am now). Japanese who join Facebook moreover find that a surprising number of people from other countries speak Japanese. Mixi requires a Japanese mobile phone to register, so you'll find few of these foreign anime fans there. The network dynamics are complicated here, but in the long run, the bigger network tends to dominate.